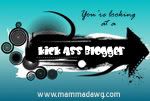 Evidently, I am a Kick Ass Blogger, according to my good friend Eric Stoller. I am honored, and even though the whole idea of blogging awards seems a little silly to me, I'll play along, for Eric's sake. 🙂
And I suppose I'm supposed to do the following:
Choose 5 bloggers that you feel are "Kick Ass Bloggers"
Let 'em know in your post or via email, twitter or blog comments that they've received an award
Share the love and link back to both the person who awarded you and back to MammaDawg
Hop on back to the Kick Ass Blogger Club HQ to sign Mr. Linky then pass it on!
So, what five blogs do I think "Kick Ass"?
The Blogora. A blog hosted by folks at the Rhetoric Society of America. Some great posts come up there that make me think, and contributors often post interesting links or questions. Also, it's nice because it's comprised of rhetoric folks in both the English/Composition and the Communication/Speech traditions.
Collin vs. Blog. Collin Brooke is smart. He hasn't been blogging as often recently, but when I read his posts, especially those in regards to the field of rhet/comp, I'm very impressed and often challenged to think in new ways.
Earth Wide Moth. Again, smart. And I enjoy following his family life and dissertating.
Yellow Dog. I don't think there are many blogs have so many posts "pinned" in my Bloglines account as Jeff Rice's. His takes on things are always refreshing, new, and often, to reference his book, cool. Also, his youtube videos of his newborn 15-month-old daughter are adorable!
Engage: Conversations in Philosophy. Joseph was a great professor I had at OSU, and a great blogger. Lots of posts that have left me pondering things, and prompted good conversations in the comments.